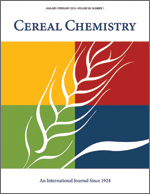 Cereal Chem. 71:287-291 | VIEW ARTICLE


Freeze-Dried Wheat Water Solubles from a Starch-Gluten Washing Stream: Functionality in Angel Food Cakes and Nutritional Properties Compared with Oat Bran.

B. B. Maziya-Dixon, C. F. Klopfenstein, and C. E. Walker. Copyright 1994 by the American Association of Cereal Chemists, Inc.

Freeze-dried wheat water solubles (WWS) recovered from a by-product stream of a gluten-starch washing plant could be substituted for 10% of the egg whites in an angel food cake formula. Higher substitution resulted in cakes with reduced volume and poor texture. Whipping time increased as percent of substitution of WWS for egg whites increased. Substitution of WWS for egg whites at all levels decreased batter viscosity. An eight-week rat-feeding study showed no significant differences in overall weight gains, feed efficiencies, and feed intakes in animals fed diets containing WWS, oat bran, or cellulose (control). However, serum cholesterol levels were significantly higher in animals fed the diet containing WWS, in comparison to those fed oat bran or control diets. Animals fed oat bran had a significantly higher percent of serum high-density lipoprotein cholesterol and lower liver cholesterol than did animals fed any other diet. Diet slurry viscosity was inversely related to total serum and liver cholesterol concentrations and directly correlated with percent of high-density lipoprotein cholesterol. WWS appear to have no potential as a dietary hypocholesterolemic agent.