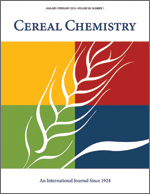 Cereal Chem. 71:159-161 | VIEW ARTICLE


Usable Energy Value of a Synthetic Fat (Caprenin) in Muffins Fed to Rats.

G. S. Ranhotra, J. A. Gelroth, and B. K. Glaser. Copyright 1994 by the American Association of Cereal Chemists, Inc.

Caprenin, a synthetic fat formulated from glycerol and behenic, capric, and caprylic acids, was evaluated for usable energy value using young rats as the test model. The net increase observed in their carcass energy due to caprenin fed over a three-week period was evaluated. Carcass fat in rats fed caprenin was only about half as much as that in rats fed a baker's shortening. Primarily because of this, calculations showed that caprenin contained 4.3 cal/g, or about half the energy in traditional fats and oils. Caloric reduction resulted, in part, from incomplete absorption of fatty acids. Incomplete absorption also caused a significant decrease in fecal density in rats fed caprenin.