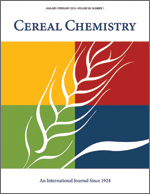 Cereal Chem 72:421-427 | VIEW ARTICLE

Oat Endosperm Cell Walls: I. Isolation, Composition, and Comparison with Other Tissues.

S. S. Miller, R. G. Fulcher, A. Sen, and J. T. Arnason. Copyright 1995 by the American Association of Cereal Chemists, Inc.

To test the hypothesis that the composition of oat endosperm cell walls would vary with the total groat beta- glucan content, endosperm walls were isolated from two cultivars of oats previously identified as containing high and low levels of beta- glucan (Marion and OA516-2, respectively). Oat endosperm cell walls were isolated by a modification of a method developed for wheat endosperm walls. In this modification, a slurry of anion exchange resin beads was used to take out cell walls from the bran (aleurone, pericarp, and testa) that were not removed using the original procedure, and cytoplasmic starch and protein were removed by "washing" the cell walls with 1% sodium dodecyl sulfate in 70% ethanol. In both cultivars, beta-glucan was the major endospermic cell wall polysaccharide, constituting approximately 85% of the wall. Despite the major difference in the beta-glucan content of the two cultivars, determined on a groat basis, this difference was not reflected in the composition of isolated endosperm walls. The beta-glucan content and monosaccharide composition were similar for the two types of walls. There were, however, differences in the phenolic acid content of the walls between the two cultivars, with those from OA516-2 having a higher total phenolic acid content than those from Marion. Preliminary analyses indicate that oat endosperm cell walls are composed primarily of beta-glucan and arabinoxylan, with a small amount of cellulose and glucomannan. Phenolic acids and a small amount of protein, determined as amino acids, are also present in the cell wall.