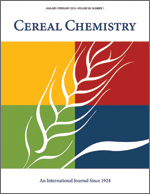 Cereal Chem 72:428-432 | VIEW ARTICLE

Oat Endosperm Cell Walls: II. Hot-Water Solubilization and Enzymatic Digestion of the Wall.

S. S. Miller and R. G. Fulcher. Copyright 1995 by the American Association of Cereal Chemists, Inc.

Isolated cell walls from two cultivars of oats, one with a high content of beta-glucan (Marion) and one with a low beta-glucan content (OA516-2), were fractionated in an attempt to understand the structure of the endosperm cell wall. Isolated walls were sequentially extracted with hot water (65 C), digested with lichenase ([1-3][1-4]-beta-D-glucan 4-glucanohydrolase, EC 3.2.1.73), and then digested with endoxylanase. The final residue after consecutive hot-water extraction and digestion by the two enzymes was acid hydrolyzed for analysis of the monosaccharide composition by high-performance liquid chromatography (HPLC). The whole wall composition, as well as the composition of the fractions generated during hot-water extraction and enzymatic dissociation, was similar for the two cultivars of oats. The fractionation characteristics of the walls were consistent with a layered model: a relatively thin outer layer, adjacent to the middle lamella, consisting of an insoluble polysaccharide skeleton (cellulose and glucomannan) plus matrix polysaccharides (beta- glucan and arabinoxylan), and a large inner layer of soluble polysaccharides (beta-glucan and arabinoxylan). These layers correspond to the residue after hot- water extraction and the hot- water extract, respectively.