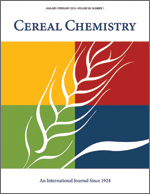 Cereal Chem 72:433-435 | VIEW ARTICLE

Malting Quality of Barley Lines Derived from Tissue Culture.

P. Bregitzer, M. Poulson, and B. L. Jones. Copyright 1995 by the American Association of Cereal Chemists, Inc.

The occurrence of somaclonal (tissue culture-derived) variation in plants regenerated from tissue culture will influence the efficiency with which techniques such as genetic transformation can be used in the development of new barley cultivars. To assess the effect of somaclonal variation on malting quality, 12 families of tissue culture-derived lines from three barley cultivars were analyzed using standard micromalting techniques. Each family was derived from a single regenerated plant that, in turn, was derived from an immature embryo callus culture. Five to six plants from each family were selected in the R2 generation based on phenotypic similarity to their uncultured parental controls, and advanced to the R4 and R5 generations for replicated field tests. The malting quality of the majority of these lines was altered by passage through tissue culture, and most alterations were undesirable. These results suggest that efforts should be made to delineate in vitro (tissue culture) conditions that are less mutagenic to cultured barley cells.