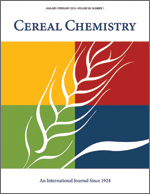 Cereal Chem 72:465-469 | VIEW ARTICLE

Breadbaking Potential of Durum Wheat Lines Expressing Both X- and Y-Type Subunits at the Glu-A1 Locus.

M. Ciaffi, D. Lafiandra, T. Turchetta, S. Ravaglia, H. Bariana, R. Gupta, and F. MacRitchie. Copyright 1995 by the American Association of Cereal Chemists, Inc.

Functionality and protein composition data were obtained for 13 F7 lines derived by a four-way cross, involving two different Italian cultivars (Creso and Lira), a tetraploid breeding line (A327), and an accession of Triticum dicoccoides. Three bread wheat cultivars currently grown in Italy and two durum parental cultivars were used as controls. These lines possessed one or two subunits at the Glu- A1 locus, derived from the uncommon allelic variant at the same locus of both A327 and Triticum dicoccoides. Functional quality was assessed by the sodium dodecyl sulfate (SDS) sedimentation test, rheological dough tests (mixograph and alveograph), and an optimized microbaking test. Protein composition was measured by near infrared reflectance (protein content), size-exclusion HPLC, and SDS-PAGE. Rheological and baking properties were strongly associated with the allelic type of proteins encoded by the Glu-B3 and Glu- A1 loci. Lines with the best technological performances contained the Glu-A1 allele from T. dicoccoides and the allelic type LMW-2 at the Glu-B3 locus from the parental durum wheat cultivars. Results indicated that some lines had exceptionally high dough strength and approached acceptable levels for baking, with one possessing dough rheological properties and baking performance as good as those of the bread wheat cultivars used as controls.