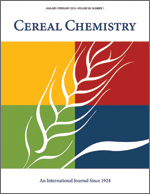 Cereal Chem 72:498-503 | VIEW ARTICLE

Low-Input Wet-Milling of Grain Sorghum for Readily Accessible Starch and Animal Feed.

P. Yang and P. A. Seib. Copyright 1995 by the American Association of Cereal Chemists, Inc.

An abbreviated, wet-milling process was devised to isolate readily accessible starch from grain sorghum. The process required 1.2 parts fresh water per one part of grain and produced no waste water. Nine grain sorghum samples varying in hardness, color, and protein content were examined. Grain was ground with 1.5 parts recycled process water, and the slurry was poured over a stack of 80-, 200-, and 400-wire mesh screens. The overs on the coarse screen were washed with recycled water, whereas the overs on the fine screens were washed with fresh water. Two soft yellow samples gave 20% starch (0.8% protein) from dry grain; the other samples gave 14-18% (0.7-1.0% protein). The starch from the two soft samples was less bright than commercial corn starch, but the brightness was improved by washing with 0.25M sodium hydroxide. The protein on the starch was decreased to 0.5% by high shearing in water at 25 C or by treatment with protease. Approximately 90% of the total process water was recovered, and 75-84% of grain solids were collected in a second stream (animal feed) with 50% moisture content. The animal-feed stream was preserved by ensiling after mixing with one-third part alfalfa meal. After three days at 40% moisture and 25 C, the silage had pH 4.2 and contained 1.1% lactic acid and 0.26% acetic acid (based on dry solids). The high-moisture animal-feed stream was also formulated into a ration for beef cattle.