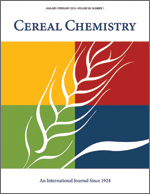 Cereal Chem 72:147-150 | VIEW ARTICLE

Fuel Alcohol Production from Hull-less Barley.

W. M. Ingledew, A. M. Jones, R. S. Bhatty, and B. G. Rossnagel. Copyright 1995 by the American Association of Cereal Chemists, Inc.

Hull-less barleys were easily milled, mashed, and fermented to ethanol. Problems experienced with viscosity were quickly eliminated by addition of beta-glucanase, but even without enzyme, viscosity decreased over the duration of fermentation. Barley mashes prepared by adding 0.33 kg grain to 1 L of water fermented slightly faster than did corresponding wheat mashes, and over 10% v/v alcohol was obtained (94% of theoretical). Distillers' hull-less barley grains collected at end-fermentation had protein contents similar to dried grains from wheat fermentations and were higher in protein than dried grains obtained from hulled barley. They were correspondingly lower in nondigestible fiber.