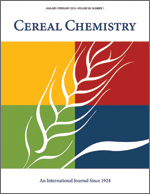 Cereal Chem. 73 (1):58-62 | VIEW ARTICLE

Carbohydrates

Extraction of Oat Gum from Oat Bran: Effects of Process on Yield, Molecular Weight Distribution, Viscosity and (1,3)(1,4)-beta-D-Glucan Content of the Gum.

Michael U. Beer (1,2), Eva Arrigoni (1), and Renato Amadò (1,3). (1) Swiss Federal Institute of Technology, Dept. of Food Science, ETH Zentrum, CH-8092, Zurich, Switzerland. (2) Present address: Agriculture and Agri-Food Canada, CFAR, Ottawa, Canada. (3) Corresponding author. Accepted October 5, 1995. Copyright 1996 by the Swiss Federal Institute of Technology, Department of Food Science.

Different processing technologies were examined for their efficiency in production of large amounts of good quality oat gum rich in (1,3)(1,4)-beta-D-glucan. Untreated and enzyme-deactivated oat bran concentrate were extracted with aqueous sodium carbonate at pH 10 and 40°C. Oat gums were subsequently isolated either by dialysis, ultrafiltration, or alcoholic precipitation on small, medium, and pilot plant scales. It was possible to produce oat gums with a beta-glucan content of approximately 60-65% with all three methodologies. The viscosity of solutions of the gums and the molecular weights differed, depending on the production process. Using dialysis, the production of highly viscous gums was possible, whereas ultrafiltration and alcoholic precipitation yielded gums with lower solution viscosity. Enzyme-deactivated oat bran concentrate gave an oat gum with an increased beta-glucan content and solution viscosity, but in lower yield. To produce large amounts of oat gum, alcoholic precipitation would be the process of choice, but ultrafiltration and dialysis are useful alternatives.