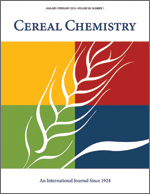 Cereal Chem. 73 (6):708-711 | VIEW ARTICLE

Rheology

Oriental Noodle Dough Rheology: Relationship to Water Absorption, Formulation, and Work Input During Dough Sheeting.

N. M. Edwards (1), M. G. Scanlon (2), J. E. Kruger (1), and J. E. Dexter (1). (1) Contribution No. 743 of the Canadian Grain Commission, 1404-303 Main St. Winnipeg, MB, R3C 3G8, Canada. (2) Dept. of Food Science, University of Manitoba, Winnipeg, MB, R3T 2N2, Canada. Accepted July 17, 1996. Copyright 1996 by the Department of Agriculture and Agri-Food, Government of Canada.

Flours from three Canadian wheat classes were processed into oriental noodles at four water absorptions, without additive or with 1% NaCl, 1% kansui, or 1% NaOH. Noodles were prepared using an Ohtake noodle maker equipped with pressure transducers and a data capture system to measure pressure exerted against the rolls during sheeting. Dynamic rheological properties of the doughs were measured with a Bohlin VOR rheometer 2.5 and 24 hr after processing. Rheological properties were contributed to mainly by the elastic character of the doughs. Water absorption and formulation significantly affected the elastic modulus (G(prime)). These trends were consistent between wheat classes. Dough stiffness showed an inverse relationship to water absorption. When compared to doughs prepared without additive, NaCl had little effect on dough stiffness. NaOH greatly increased dough stiffness; kansui showed an intermediate effect. Doughs containing NaOH continued to increase in stiffness over 24 hr, indicating that the effect of pH may be time-dependent.