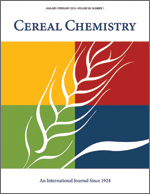 Cereal Chem. 73 (6):756-758 | VIEW ARTICLE

Grain Quality

NOTE: Variation for Starch Concentration in Spring Wheat and Its Repeatability Relative to Protein Concentration (1).

Pierre Hucl (2) and Ravindra N. Chibbar (3). (1) NRCC No. 40025. (2) Crop Development Centre, 51 Campus Drive, University of Saskatchewan, SK, S7N 5A8, Canada. (3) Plant Biotechnology Institute, National Research Council of Canada, 110 Gymnasium Place, Saskatoon, SK, S7N 0W9, Canada. Corresponding author. Fax 306/975 4839. E-mail: <rchibbar@pbi.nrc.ca> Accepted August 23, 1996. Copyright 1996 by the National Research Council of Canada.