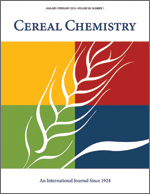 Cereal Chem. 73 (2):155-166 | VIEW ARTICLE

Durum Wheat and Pasta

REVIEW: Improvement of Durum Wheat Pastamaking and Breadmaking Qualities.

C.-Y. Liu (1,2), K. W. Shepherd (1), and A. J. Rathjen (1). (1) Department of Plant Science, Waite Agricultural Research Institute, The University of Adelaide, Glen Osmond, S. A., 5064 Australia. (2) Corresponding author. Fax: (08)303-7109. Accepted November 17, 1995. Copyright 1996 by the American Association of Cereal Chemists, Inc.