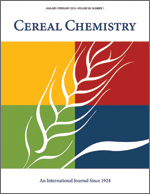 Cereal Chem. 73 (2):176-178 | VIEW ARTICLE

Nutrition

Effect of Resistant Starch on Blood and Liver Lipids in Hamsters.

G. S. Ranhotra (1), J. A. Gelroth, and B. K. Glaser. (1) Corresponding author: American Institute of Baking, 1213 Bakers Way, Manhattan, KS 66502. Phone: 913/537-4750. Fax: 913/537-1493. Accepted December 5, 1995. Copyright 1996 by the American Association of Cereal Chemists, Inc.

Serum and liver lipid responses were studied in young hamsters fed diets containing cholesterol (CH) and either no fiber or 20.5% fiber. Fiber was provided as resistant starch (RS) or as cellulose (CL); the no-fiber diet was based on normal starch (NS). After four weeks, serum total CH in hamsters fed RS was 16.2% lower, and in those fed CL 13.1% lower, than in hamsters fed NS. This effect may be specific to RS and CL, may be the result of lower weight gains in hamsters fed RS and CL as compared to those fed NS, or both. The lowering of CH resulted from a reduction of both high-density lipoprotein (HDL) CH and non-HDL CH. Like serum CH, serum triglyceride levels were also lower in hamsters fed RS and CL--nearly 50% lower--compared with those fed NS. Liver CH and lipid levels defied this trend in that CH levels were higher in hamsters fed RS than in those fed NS or CL.