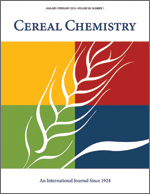 Cereal Chem. 73 (2):215-221 | VIEW ARTICLE

Soft Wheat Products

Rheological Properties and Baking Qualities of Selected Soft Wheats Grown in the United States.

H. Yamamoto (1), S. T. Worthington (2), G. Hou (3), and P. K. W. Ng (3,4). (1) Yamazaki Baking Co., Ltd., 3-15-6, Chitose, Sumida-Ku, Tokyo 130, Japan. (2) Vie de France Bakery Yamazaki, Inc., 375 Commerce Dr., Suite C, Fort Washington, PA 19034-2797. (3) Department of Food Science and Human Nutrition, Michigan State University, East Lansing, MI 48824. (4) Author to whom correspondence should be addressed. Accepted October 6, 1995. Copyright 1996 by the American Association of Cereal Chemists, Inc.

Seventeen soft wheat cultivars from four classes of U.S. soft wheats, eastern soft white winter (ESWW), western soft white winter (WSWW), club, and soft red winter (SRW) wheats, were selected for evaluation of their milling, physicochemical, and rheological properties and their suitability for making Japanese-type sponge cakes (JSC) and AACC sugar-snap cookies (SSC). The texture characteristics of JSC were determined with texture profile analysis (TPA). Results indicated that some SRW and ESWW wheats could be potential substitutes for WSWW and club wheats for JSC end-use. Both ESWW and SRW wheat short patent flours produced relatively larger diameter cookies than did WSWW and club wheat short patent flours. Correlation analyses indicated that decreasing flour particle size was a very important parameter related to improving quality of both JSC and SSC, while starch damage was more detrimental to SSC quality. Results from the present study also showed that the alveograph and mixograph were useful tools for evaluation of soft wheat quality for cake and cookie baking.