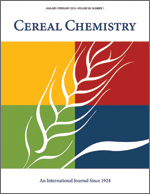 Cereal Chem. 73 (2):244-248 | VIEW ARTICLE

Carbohydrates

Introduction of Fatty Acids into Low-Lipid Starches and Their Nägeli Amylodextrins.

Yoshitaka Kaneda, Kanefumi Kitahara (1), Toshihiko Suganuma, and Tomonori Nagahama. (1) Department of Biochemical Science and Technology, Faculty of Agriculture, Kagoshima University, Japan. 21-24 Korimoto 1-chome, Kagoshima 890, Japan. Corresponding author. E-mail: <kitahara@chem.agri.kagoshima-u.ac.jp> Accepted December 7, 1995. Copyright 1996 by the American Association of Cereal Chemists, Inc.

Fatty acids (FA) were artificially introduced into 14 kinds of low-lipid starches and their Nägeli amylodextrins (NA). The introduced palmitic acid (PA) and linoleic acid (LA) in starches amounted to 65.1-287.2 and 33.5-132.9 mg/100 g of starch, respectively, which was generally related to the granular size of the starches. The introduction of PA interfered in the color development of the starches with iodine. In the case of NA, PA could be also introduced into the NA to some extent (19.6-91.7 mg/100 g of NA), which indicated that the NA still had capacity for introducing PA. On the basis of the amounts of introduced PA in the whole granule and in the NA, it was considered that the quantities in the whole granules might depend on the intact acid-soluble part. Statistical analysis of the chemical structures of NA showed that the quantity of introduced PA in NA was positively correlated to the limit of beta-amylolysis and negatively to the number of branched points. This result indicated that the larger the amount of PA introduced in NA, the more linear the molecules constituting NA.