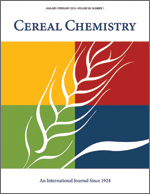 Cereal Chem. 73 (3):302-308 | VIEW ARTICLE

Nonwheat Grains and Products

Suitability of Edible Bean and Potato Starches for Starch Noodles.

Young S. Kim (1), Dennis P. Wiesenborn (2), James H. Lorenzen (3), and Patricia Berglund (4). (1) Department of Cereal Science, North Dakota State University, Fargo. (2) Departments of Agricultural Engineering and Cereal Science, North Dakota State Univ., Fargo, ND 58105-5626. Corresponding author. Fax: 701/231-1008. (3) Department of Plant Sciences, North Dakota State University, Fargo. (4) Department of Food and Nutrition, North Dakota State University, Fargo. Accepted January 24, 1996. Copyright 1996 by the American Association of Cereal Chemists, Inc.

Starch noodles were prepared from two types of bean (navy and pinto) starch and three sources of potato starch (ND651-9, Mainechip, and commercial potato starch). Physicochemical properties of those starches, and cooking quality parameters and sensory characteristics of the noodles were investigated. Potato starches contained significantly less amylose and more phosphorus when compared to bean starches. Amylograph pasting properties showed lower pasting temperature and higher peak viscosity for potato starches than for bean starches, but more shear stability for bean starches. Swelling and solubility of potato starches was significantly higher than for bean starches. Noodles made from bean starches exhibited cooking quality similar to that of commercial starch noodles with respect to cooking loss and cooked weight. Texture profile analysis (TPA) results showed starch noodles made from bean starches had higher hardness values, but lower cohesiveness values when compared to those from potato starches. Sensory panelists scored noodles made from potato starches higher in transparency than those made from bean starches. Both transparency and overall acceptability by sensory evaluation were significantly correlated with cohesiveness by TPA. With respect to texture characteristics of starch noodles, starch noodles made from potato starches were more suitable than navy and pinto bean starch noodles.