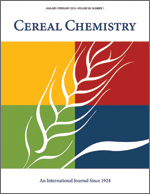 Cereal Chem. 73 (3):364-367 | VIEW ARTICLE

Proteins

Preparation and Functional Properties of a Protein Isolate from Defatted Wheat Germ.

N. S. Hettiarachchy (1), V. K. Griffin, and R. Gnanasambandam. (1) Associate professor, Department of Food Science, University of Arkansas, 272 Young Avenue, Fayetteville, AR 72703. Fax: 501/575-6936. Accepted February 20, 1996. Copyright 1996 by the American Association of Cereal Chemists, Inc.

A protein isolate (90% protein) was prepared from defatted wheat germ by alkaline extraction at pH 9.5 and isoelectric precipitation at pH 4.0. Nitrogen solubility of wheat germ protein isolate (WGPI) was 72% at pH 6.0. WGPI compared well with bovine serum albumin (BSA) in its emulsifying properties. Foaming capacity of WGPI was similar to that of egg white standard while the foam stability was significantly lower (P < 0.05). Surface hydrophobicity of WGPI as measured by a fluorescence method followed the same trend as that of emulsifying properties (WGPI < BSA). Electrophoresis of WGPI revealed a wide band at approximately 55 kDa range and another one at 35 kDa. Several polypeptides were observed at >21 kDa MW. Wheat germ offers as a potential source of functional protein isolate for possible food applications.