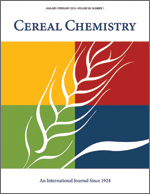 Cereal Chem. 73 (3):410-413 | VIEW ARTICLE

Proteins

Effects of High Molecular Weight Subunits of Glutenin on the Rheological Properties of Wheat Gluten.

Peter Schropp and Herbert Wieser (1). (1) Deutsche Forschungsanstalt für Lebensmittelchemie and Kurt-Hess-Institut für Mehl- und Eiweißforshung, Lichtenbergstraße 4, D-85748 Garching, Germany. Accepted February 2, 1996. Copyright 1996 by the American Association of Cereal Chemists, Inc.

High molecular weight (HMW) glutenin subunits of different chemical state (reduced, S-alkylated, reoxidized with KBrO(3) or KIO(3)) and of different compositions (cv. Rektor [HMW subunits 5, 7, 9, 10], cv. Apollo [HMW subunits 2, 6, 8, 12]) were added, mostly in 1% amounts, to base flours of Rektor and Apollo. The corresponding glutens were then characterized by microscale extension tests and compared to glutens from the flours without additives. The extensibility of gluten was increased by monomeric proteins (gliadin, reduced HMW subunits) and was decreased by reoxidized HMW subunits. The maximum resistance of gluten was increased by reoxidized HMW subunits, when the major portion of the product was in an aggregated state (reoxidation with KBrO(3)). A maximum level of resistance was reached with the addition of 1.5-2.0% of reoxidized HMW subunits. HMW subunits reoxidized with KIO(3) had an decreasing effect on gluten resistances. Main differences to HMW subunits reoxidized with KBrO(3) were the lower portion of polymerized proteins and the absence of free thiol groups. Monomeric proteins (reduced or S-alkylated HMW subunits, gliadin) generally decreased maximum resistance. The effect of reoxidized HMW subunits on gluten properties did not seem to depend on the HMW subunit composition.