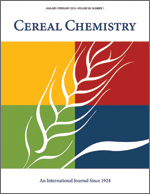 Cereal Chem 64:182-186 | VIEW ARTICLE

Starch Functionality as Affected by Amylases from Different Sources.

T. A. Kuracina, K. Lorenz, and K. Kulp. Copyright 1987 by the American Association of Cereal Chemists, Inc.

For an evaluation of changes in starch functionality, different amounts of alpha-amylases (1, 2, or 8 SKB units per gram) from bacterial, fungal, and cereal sources were incubated for various times (4, 8, or 16 hr) with starch isolated from wheat flour. Water-binding capacity, swelling power, solubility, gelatinization temperature ranges, and amylograph pasting characteristics were measured, scanning electron microscopic studies of the starches were conducted, and baking characteristics of the treated starches were evaluated. Enzyme treatment affected water-binding capacity. Swelling power at 90 C was reduced and starch solubility increased due to the enzyme treatment. Gelatinization temperatures of the starch decreased after treatment with bacterial and cereal enzyme treatments. Scanning electron microscopy showed slight starch damage as surface modifications due to enzyme treatment. Amylograph measurements indicated that enzymatic treatment resulted in decreased consistencies from treated starches. Bread-baking quality of starch improved with low-level treatment of enzyme from each source. Grain and texture of the breads were better than those of bread baked with a control starch. High levels (8 SKB units/g) of enzyme treatment showed detrimental effects on bread-baking performance. Because the interfering secondary activities were eliminated by the experimental design, the observed changes are attributable to amylase activities only.